Cinnamon Rounds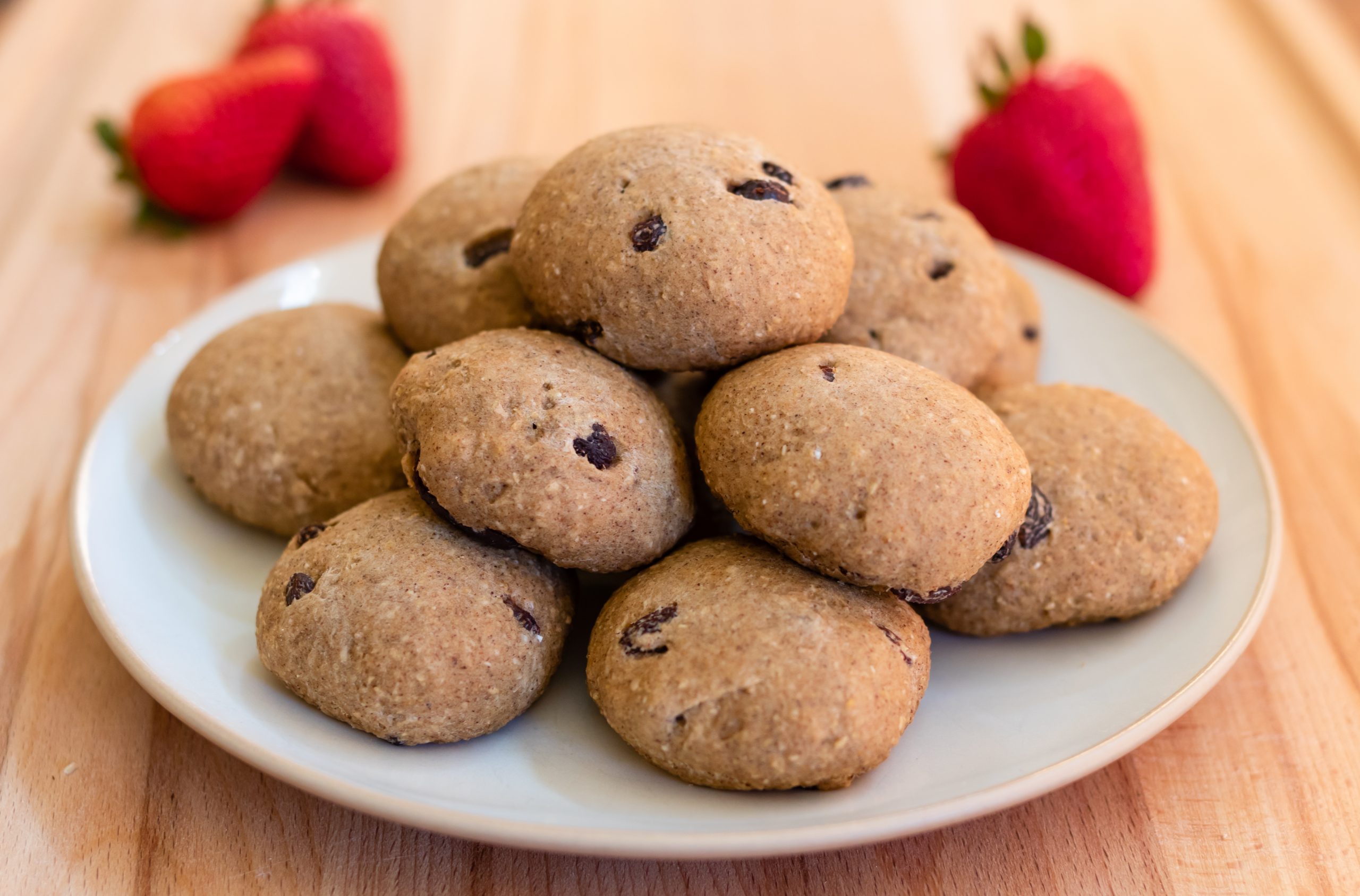 How can you go wrong with soft and sweet bread? These baked cinnamon rounds are just oh-so-delicious… little pillows of cinnamon and raisins perfect for snacking.
They are similar in consistency to dinner rolls, but breakfast style. The name "cinnamon rolls" suggests something completely different than these though, so I am calling them "cinnamon rounds."
They're made with oats, applesauce, almond milk, and vanilla for a wholesome twist of deliciousness. My entire family has raved about these, and that's saying something!
The best part about this recipe? It's EASY. No yeast is needed, and there is no waiting forever for the dough to rise. You basically get to play with the dough and pop it in the oven – less than 25 minutes start to finish!
---
RECIPE – CINNAMON ROUNDS
Printable PDF Recipe
Vegan
Makes 15 rounds
Total time: 25 minutes
---
INGREDIENTS
• 1 cup rolled oats (blend into oat flour)
• 1 cup all-purpose flour
• 1/2 tsp baking soda
• 1/2 tsp baking powder
• 1/4 tsp salt
• 2 tsp cinnamon
• 1/2 tsp nutmeg
• 1/2 cup applesauce
• 1/4 cup almond milk
• 1/4 cup maple syrup
• 1 Tbsp vegetable oil
• 2 tsp vanilla extract
• 1/2 cup raisins
DIRECTIONS
1. Preheat oven to 350 degrees.
2. Whisk together ground oats, all-purpose flour, baking soda, baking powder, salt, cinnamon, and nutmeg. Set aside.
3. Stir together applesauce, almond milk, maple syrup, oil, and vanilla.
4. Combine wet and dry ingredients and mix until relatively combined. Add in raisins.
5. Knead until everything is evenly combined and a nice dough ball is formed (it will be moist and dense). Gradually add extra flour if needed, until the dough stops sticking to your hands.
6. Separate and roll dough into 1' balls, then flatten into circles with the palm of your hand (about ½ inch thick).
7. Place rounds on a baking sheet lined with parchment paper. They will not spread out, so you can place them relatively close together.
8. Bake at 350 degrees Fahrenheit for 12 minutes. Enjoy! Freeze leftovers for optimal freshness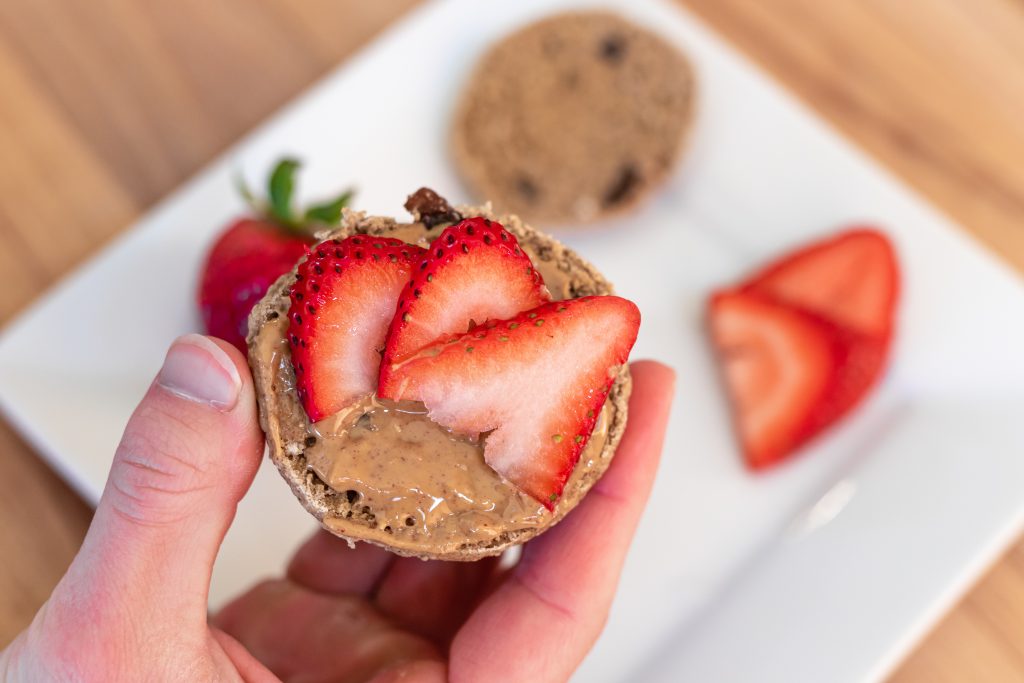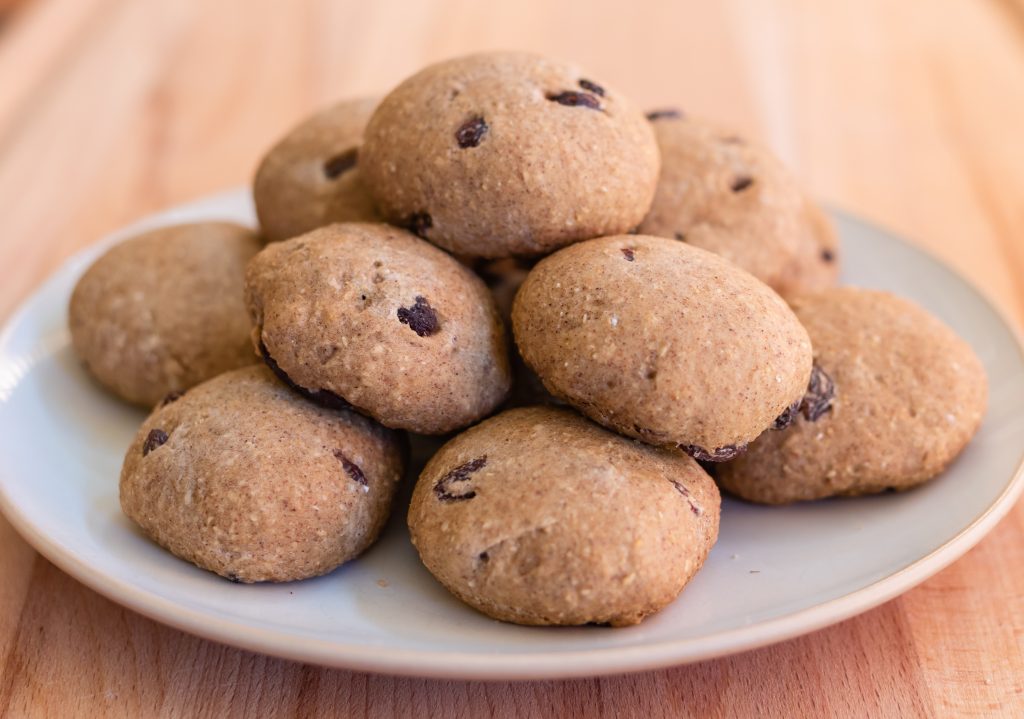 ---
---