Chocolate Cake Pops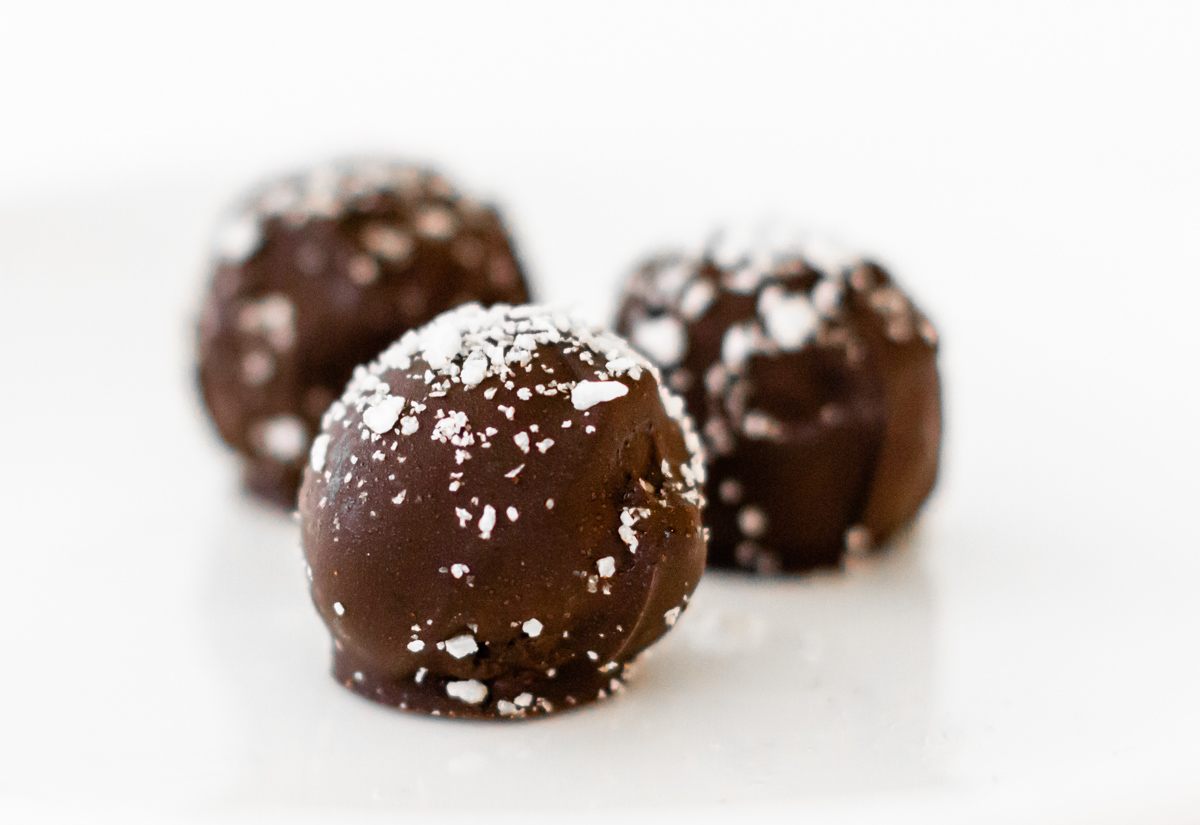 Fudgy brownies have been my favorite dessert for as long as I can remember, but these chocolate cake pops are giving brownies a run for their money. With a dense yet fluffy inside and a rich chocolate shell, they might just take the cake (pink intended).
There are so many things to love about this recipe.
The taste (obviously)! I don't share things that I don't think are absolutely delicious. Considering I ate at least 3 of these every day for the past week, I wholeheartedly approve the scrumptious standard.
The ingredients – whole grain oats, antioxidant filled cocoa powder, and creamy almond milk make up most of the recipe! Basically, they could be considered healthy(ish) energy balls, but they fully live up to the taste of cake, so that's what we're gonna go with 🙂

The versatility 

– you can mix in lots of different flavors when rolling up the cake balls – chocolate cherry, chocolate peanut butter, chocolate mint, or whatever else you can think of!
Also, they are completely gluten-free and can easily be made vegan! Simply make sure to use vegan chocolate chips for the shell and substitute melted coconut oil for the Greek yogurt.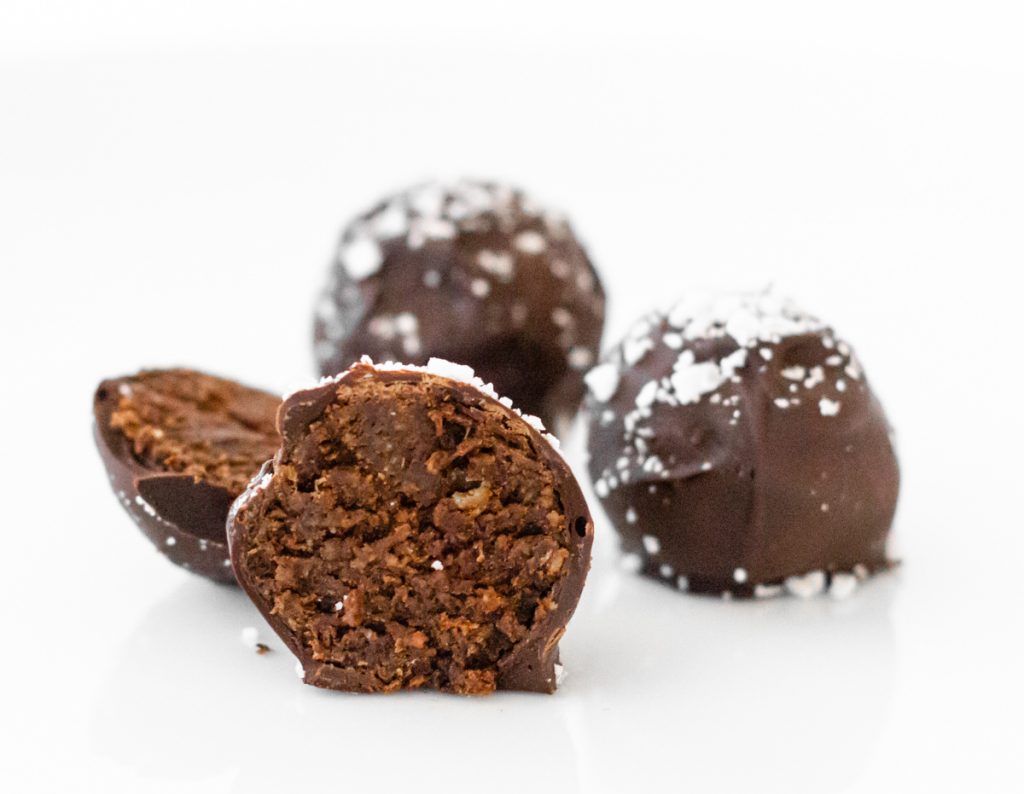 ---
RECIPE – CHOCOLATE CAKE POPS
Vegan and gluten-free
Makes about 30 cake pops
---
INGREDIENTS
Cake Ingredients
1 1/2 cups rolled oats

2/3 cup cocoa powder

1 tsp baking soda

1/4 tsp salt

2 Tbsp peanut butter (or melted coconut oil)

3 Tbsp Greek yogurt (or melted coconut oil)

1/4 cup brown sugar

1/4 cup maple syrup

1/2 cup almond milk

1/2 cup water

1 tsp vanilla
Icing/Mix In Ingredients
3/4 cup powdered sugar

1 Tbsp vegan butter, Greek yogurt, peanut butter, or coconut oil

1-2 tsp almond milk
1 cup chocolate chips
---
DIRECTIONS
Bake the Cake
Grease a 8×8" cake pan and preheat oven to 350 degrees Fahrenheit

Blend rolled oats into a flour. Blend or whisk in cocoa powder, baking soda, and salt.

In a separate bowl, mix together all the remaining ingredients until evenly combined

Stir in the dry mixture

Pour into prepared pan

Bake for 18-22 minutes

Remove from oven and let cool (while you make the icing)
Make the Icing*
Stir or beat together all ingredients and add any desired mix-ins (see notes)
Assemble Cake Pops
Thinly slice off the edges and mash cake

Gradually "stir" in icing until you reach a desired consistency

Scoop and roll into balls

Melt 1 cup chocolate chips

Dip each ball completely in melted chocolate

Place on parchment paper and refrigerate until the chocolate hardens
Store in the refrigerator or freezer for optimal freshness (thaw frozen cake pops before enjoying).
---
MIX-IN NOTES: Feel free to get creative here! The main goal is to make the cake a little wetter so it rolls nicely into balls. Use any frosting recipe or add one of the following ingredients to the mix!
2-3 Tbsp cherry juice (my favorite variation)

Scoop of peanut butter or other nut butter

or 1/2 tsp peppermint extract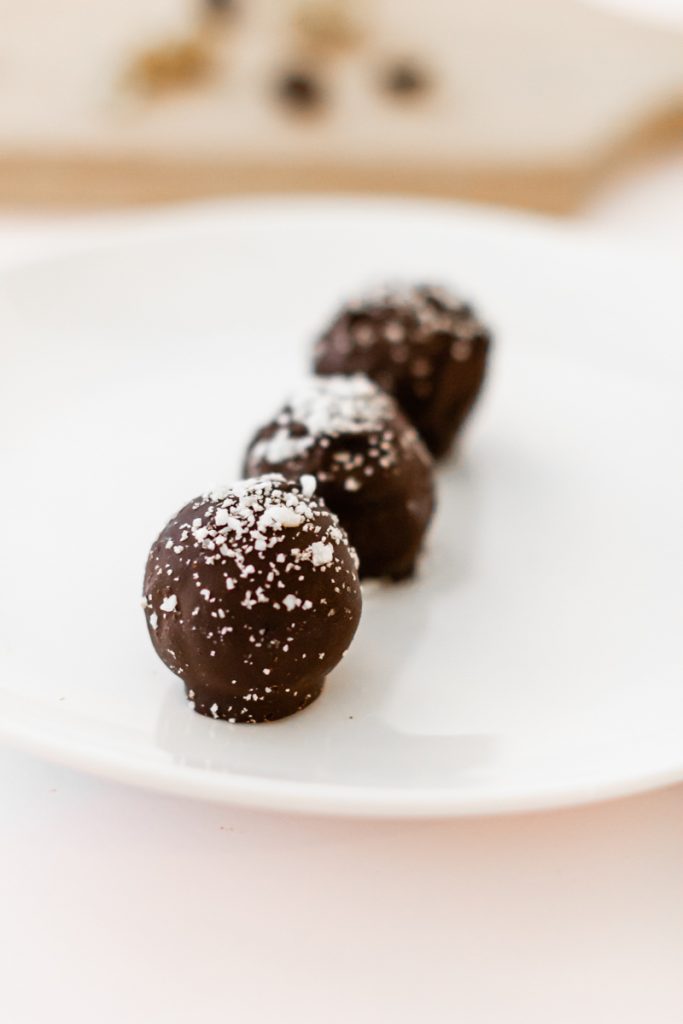 ---
---