Dinners Around the World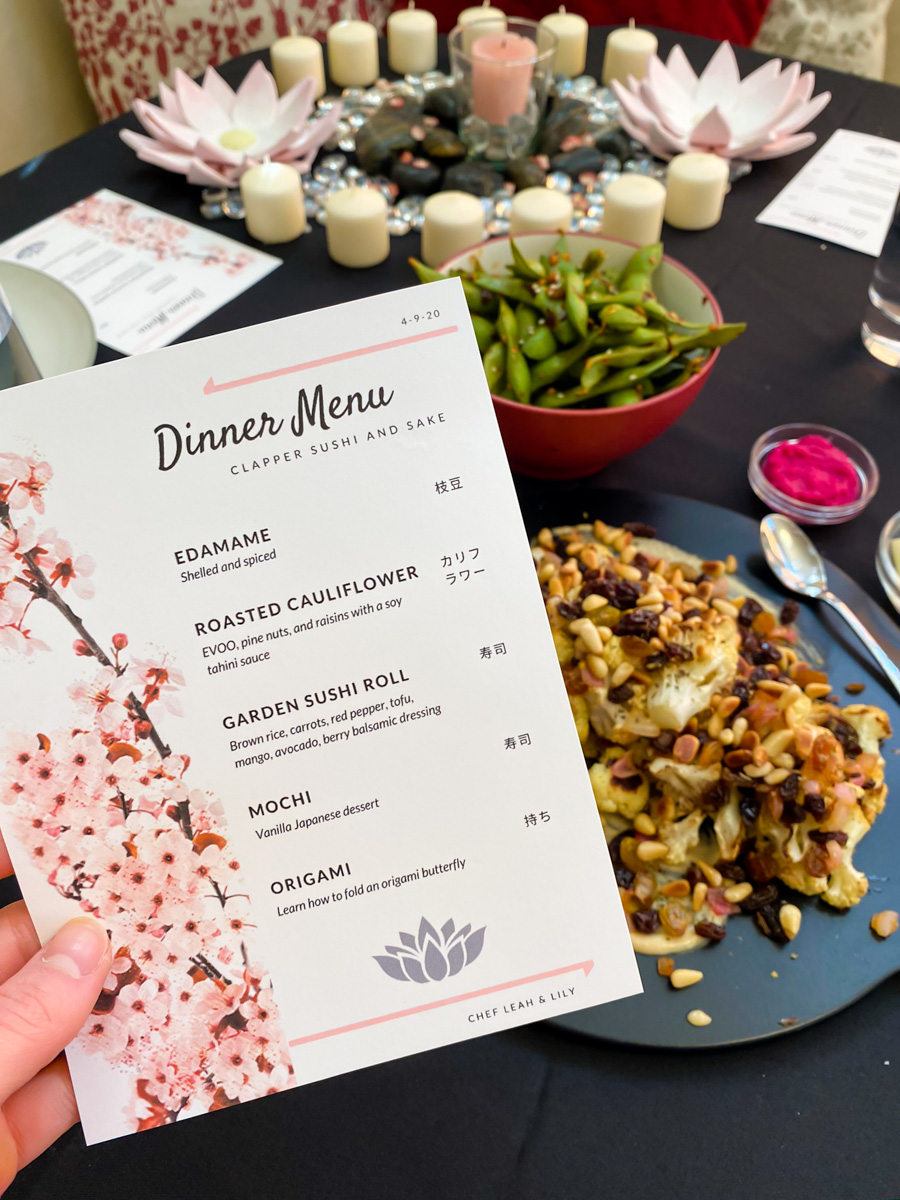 During the COVID-19 pandemic, my family kept things interesting at home by having themed "dinners around the world." We decorated, dressed for each occasion, and ate all different types of cuisines. It was a lot of fun, and the best part was trying a whole bunch of new recipes! Everything was way too delicious not to share, so here is our adventure…
---
An Evening in Paris
For our first stop, we opted for an elegant dinner in France. We grabbed some fairy lights, nearly pulled down our blinds hanging a table-cloth canopy, and brought out the fine china to create a sophisticated "Parisian" ambiance. My sister, Lily, and I created a fashionable menu, set place cards on mini lampposts, and got to work on dinner!
Our Menu:
Appetizer: Sweet salad with spinach, apples, dried cherries, feta cheese, and a raspberry vinaigrette. Simple and delicious!
Entree: Protein-packed crustless quiche. It's one of my mom's recipes and a family favorite.
Dessert: Homemade chocolate croissants (pain ou chocolat). These were definitely the star of the night! Layered with flaky, buttery goodness, they were absolutely worth the indulgence. A huge thanks to Sally's Baking Addiction for the recipe and to Lily for making them so crazy good. Note: they did take a lot of planning ahead, because the dough needs to rise in several different steps. However, it was a perfect thing to do during quarantine.
Once the food was ready, we dressed up and dined with candlelight, throwing out a few French phrases. Overall, our first stop was a stylish success, and it inspired us to head to the tropics…
---
Hawaiian Sunset Luau
Stuck at home with snow in April had us dreaming of beach days, so we planned a Hawaiian experience for our next dinner around the world. This stop featured floral beach towels, relaxing island music, and of course, colorful leis. Lily and I choreographed a hula dance (based off traditional hula moves), and ended the night with a bonfire.
Despite the faux beach fun, the food was still our favorite part! Here's what we made…
Our Menu:
Appetizer: A tropical smoothie sampler and sweet Hawaiian rolls
Entree: Hawaiian poke bowl with marinated tofu, pineapple, carrots, edamame, wasabi peas and a soy-ginger dressing. It was so good, it's now a regular family dinner. Read more here…
Dessert: Grilled pineapple with a ton of cinnamon and a sprinkle of coconut flakes! Yummmm.
---
Dinner in Japan
It was time to "head east" for a fun night full of Asian flavors and even some (very basic) origami butterflies. We were inspired by lotus flowers and Japanese cherry trees, so we made a menu and table setting that matched. For dinner, we made a few different small plates to share.
Our Menu:
Shelled edamame with sea salt, garlic, red pepper flakes, and a bit of soy sauce. I mean what's a Japanese night without edamame? 
Roasted Cauliflower with pine nuts, raisins, and a soy tahini sauce. I was originally going for a more Japanese style dish, but we didn't have any miso paste, so I opted for tahini instead. It actually turned out delicious! Check out the recipe here.
Vegetable Sushi": Inspired by my favorite sushi restaurant in Gainesville, Dragonfly Sushi and Sake, we made "sushi" with sticky brown rice, red bell pepper, mango, tofu, carrots, cucumber, avocado, and a berry balsamic glaze. It turned to be a sushi bowl instead of a sushi roll, since we didn't use seaweed and are pure sushi amateurs. Nonetheless, it tasted really, really good, and the berry balsamic was the perfect finishing touch!
Dessert: Vanilla mochi 
---
An Indian Experience
Curry cravings took us to our next destination: India. Lily and I had a blast turning our kitchen into a colorful oasis and even more fun cooking up some delicious dishes (not to mention doing some Indian dancing… check out the video above)!
Our Menu:
Roti: A traditional Indian flatbread made with whole wheat flour. It was surprisingly easy to put together and quite mesmerizing watching it "pillow up" on the stove top while cooking! Perfect for dipping in curry…
Coconut Chickpea Curry. Lily and I made this flavorful recipe from Modern Honey with a couple additions… carrots, red bell pepper, green peas, and some extra spices – it was delightful! We served it with brown rice and the roti.
---
Mediterranean Delight
For our 5th stop, it was about time to head to the Mediterranean – hummus and pita here we come! 
Our Menu:
Homemade pita: So, so good and wayyy better than store bought. Honestly, nothing beats pita fresh off the stove top! This NYT Cooking recipe certainly did not disappoint 😉 Of course, we served it with hummus!
Mediterranean quinoa bowl with roasted chickpeas, zucchini, heirloom tomatoes, and a Greek yogurt tahini sauce. It was one of those use-what-we-have and make-it-work kind of recipe, but it turned out to be a huge success. Plus, it was healthy, balanced, and extra delicious with some hummus.
---
Tex-Mex Adventure
For our final "dinner around the world" we spent the evening enjoying Tex-Mex cuisine in flannel shirts and cowboy hats. We brought out a few themed props and got to work in the kitchen. Although it may not have been the prettiest food, it was my favorite from our entire adventure (dessert especially)!
Our Menu:
Appetizers: 
– Tortilla chips with homemade guacamole
– Fajita vegetables (starring Tex-Mex seasoning and fresh lime juice)
Entree: Black bean and vegetable enchiladas with homemade enchilada sauce – both thanks to Cookie and Kate. The sauce blew our minds – it was the best enchilada sauce I've ever tasted, healthy, and remarkably easy to make. We did make the enchiladas with corn tortillas (instead of wheat like the recipe calls for), and it worked out perfect. I think this dish may be a new family favorite!
Dessert: 5-minute S"MORES CHOCOLATE CAKE – insanely delicious and the beginning of a new dessert obsession. If you try any recipes from this post – I'd suggest making it this one 😉
Looking back, having family "dinners around the world" represented a highlight of our time at home during quarantine. We had a ton of fun and got several new dinner recipes from our adventures! I hope they can inspire you too. Thanks for reading 🙂
---
---