Sweet Chi Curry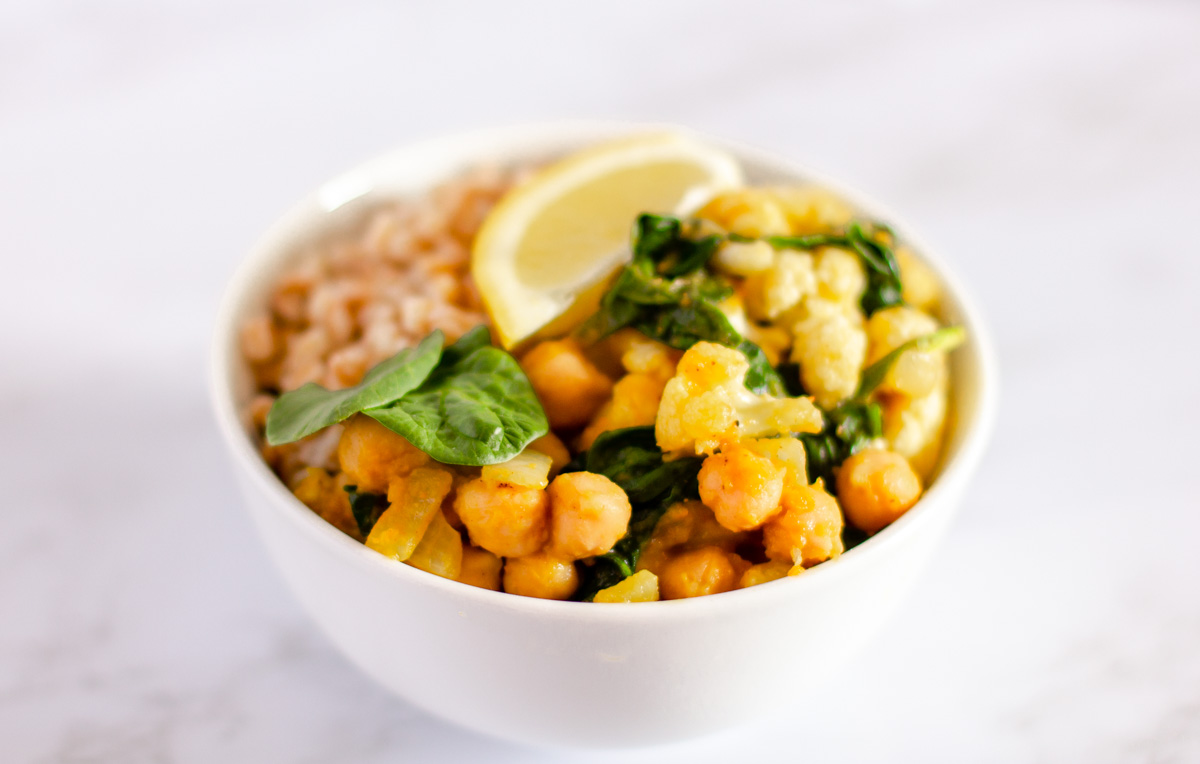 On top of the regulating health benefits of SWEET CHI by aha Pure Foods, this curry is a balanced meal in itself!  It has plenty of whole grains, healthy carbohydrates, fiber, and plant-based protein to make for a satisfying and nutritious meal.
The chickpeas and cauliflower complement SWEET CHI perfectly. Then, sautéed spinach incorporates even more vitamins and minerals (gotta get those greens!). Finally, a sprinkle of curry powder and nutmeg enhance the flavor profile even more.  Serve the curry over rice or farro for a hearty vegan meal that will keep you feeling full and energized.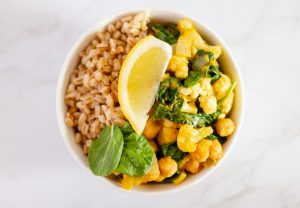 It's super simple to make and absolutely delicious. The first time I ate it, I couldn't help dipping into the leftovers for more.  I will certainly be making it again and again – probably every time I have a jar of sweet chi on hand :).  Overall, this recipe is just begging to go on your "to make" list!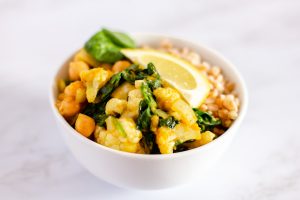 Servings: 3-4
Active time: 10 min, total time: 30 min
Ingredients
1 cup rice or farro (uncooked)

½ onion, diced

2 cups cauliflower florets

2 large handfuls spinach

1 15oz can chickpeas

1 cup SWEET CHI

2 tsp curry powder

1/2 tsp nutmeg

¼ tsp cinnamon

1 lemon
Directions
Prepare rice or farro according to package directions.

Heat a skillet over medium/high heat with a large drizzle of olive oil.  Prepare vegetables.

Add onion and cauliflower to the skillet and sauté.

After about 2 minutes, add spinach and continue cooking until onions are translucent and spinach is wilted, 3-5 more minutes.

Turn heat to low. Add chickpeas, sweet chi, curry powder, nutmeg, and cinnamon. Cook for 1-2 minutes, until warm.

Remove from heat. Slice the lemon into wedges. Squeeze the juice from half the lemon into the curry.

Serve over grains. Top with remaining lemon wedges and a dash of lemon zest, if desired.
---
---