Hawaiian Poke Bowl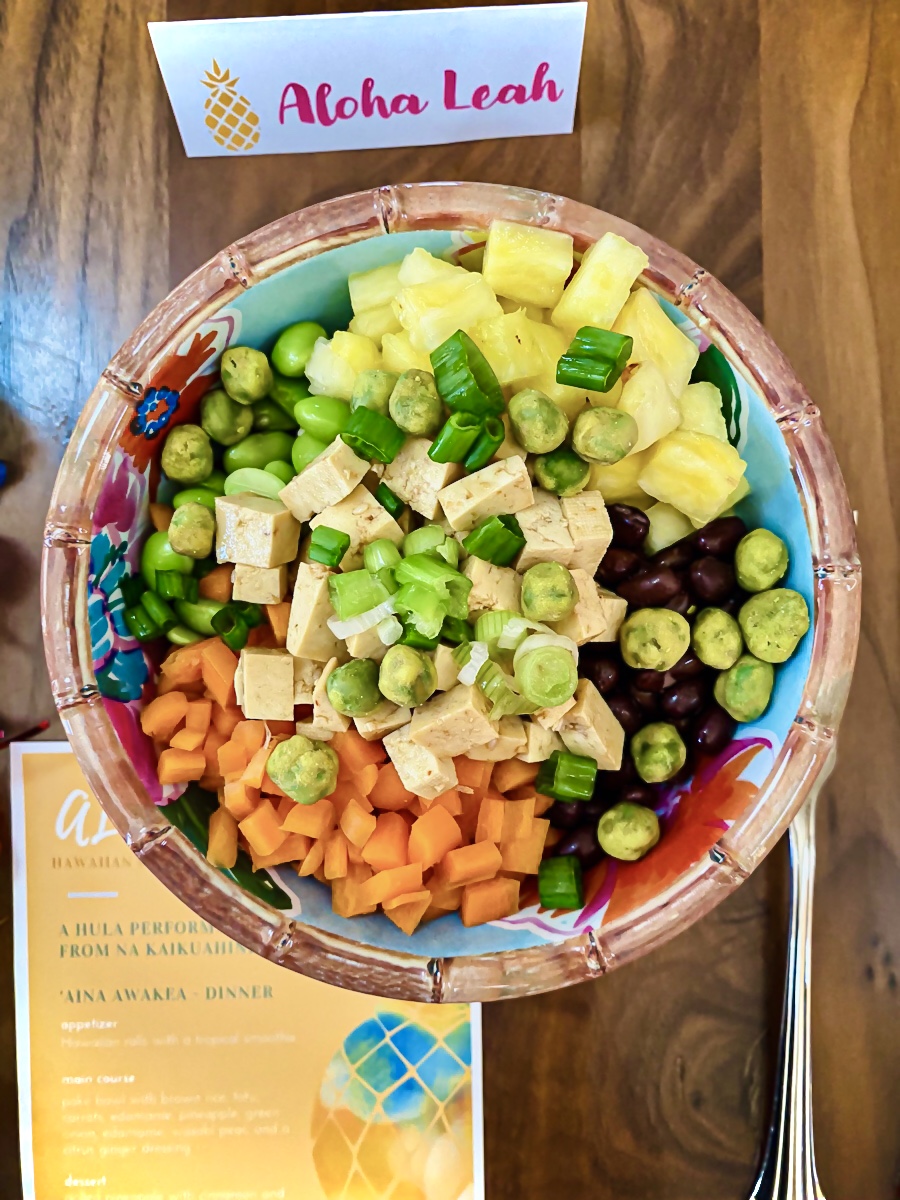 As I'm sure you can relate, being stuck at home becomes monotonous fast. My sister and I came up with an idea to keep things interesting during the COVID19 pandemic: take our family on a culinary trip around the world! We "traveled" around to exotic destinations, decorated our kitchen, dressed up, and tried all sorts of new food.
This stop: Hawaii… dreaming of beach days! The menu included Hawaiian rolls, a refreshing tropical smoothie, a Hawaiian poke bowl, and cinnamon grilled pineapple for dessert. Everything turned out absolutely delicious, but the poke bowl was definitely the star! 
The recipe is super easy, and it only takes 10-15 minutes of prep once the rice is ready! Hope you enjoy it as much my family did 🙂
---
The Recipe
Servings: 4
Ingredients
Bowl 1 cup brown rice (uncooked)

1/2 large block tofu

Carrots (large handful baby carrots or 1-2 full-sized carrots)

1 bell pepper

1 cup shelled edamame beans

1 cup black beans, rinsed and drained

2 green onions (optional)

Pineapple

Carrots

1/2 cup wasabi peas
Sweet Chili Soy Sauce
1/3 cup soy sauce/coconut aminos/tamari

2 tbsp sesame oil

2 tbsp lemon juice

1 tbsp rice vinegar or white wine vinegar

2 tsp sriracha

Large dash ginger

Dash garlic powder

Sesame seeds

1/3 cup sweet chili sauce (Trader Joe's is my favorite)
Directions
Ahead of time: Cook brown rice and let chill.
1.  Prepare vegetables
Dice tofu into 1/2 inch cubes

Shred or thinly slice carrots

Dice bell pepper small

Cut pineapple into small chunks.

Thaw edamame
2. If using scallions, thinly slice them. Combine scallion whites with 1 tsp sugar and cover with white wine vinegar. Let sit until dissolved.
3. Mix together all sauce ingredients. Set aside.
4. Assemble:
Portion brown rice into bowls.

Add tofu, carrots, bell pepper, pineapple, edamame, black beans, and soaked scallion whites*
5. Top with wasabi peas, scallion greens*, and sesame seeds.
6. Drizzle on sauce and enjoy!
---
---
---