Mini Pumpkin Pie Cheesecakes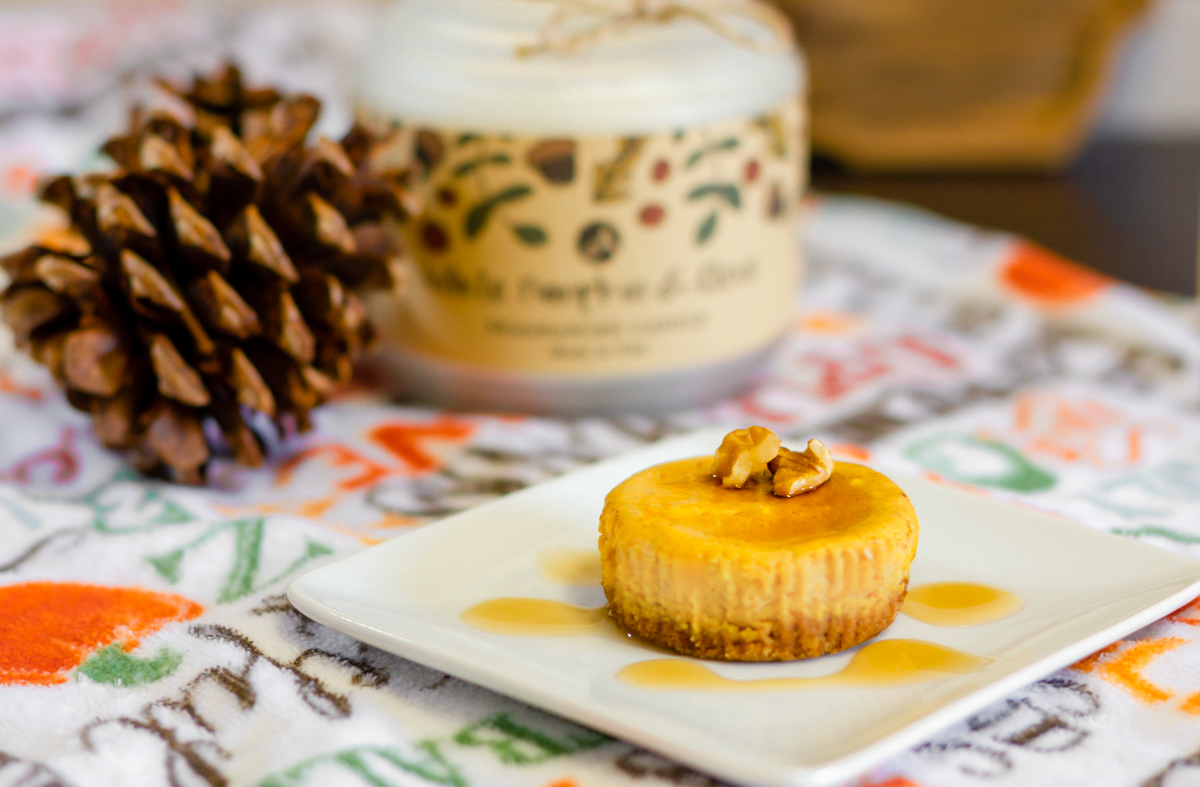 Pumpkin pie is a total Thanksgiving staple, but I have to admit I might make a batch of these instead this year. Pumpkin pie + cheesecake + a spiced graham cracker crust = this indulgent recipe! I could go on and on about how great these are but basically…
They are rich and delightful.

They have pumpkin spice, and that makes everything better.

The crust is sweet and cinnamon-y to tone down the rich cheesecake. It's just… so… good…

The recipe takes only 10 minutes to prepare.

Waiting for them to chill in the fridge is the hardest thing ever (okay, being a little dramatic here, but it is pretty agonizing). However, it's totally worth it.

They are the perfect size! Cute and mini.
I highly suggest making this your next fall baking adventure!
---
PUMPKIN PIE CHEESECAKES
Prep Time: 10 minutes | Cook time: 25 minutes | Total time: 2hrs 35 min
Makes 10 mini cheesecakes
---
INGREDIENTS
Crust
3 tbsp butter, melted

¾ cup graham cracker crumbs (about 5 full sheets, crushed)

1 tbsp brown sugar

1 tsp cinnamon

¼ tsp ginger
Cheesecake
1 tbsp flour

½ tsp cinnamon

¼ tsp nutmeg

⅛tsp cloves

⅛tsp ginger

1 package cream cheese (8oz)

3 tbsp Greek yogurt

⅓cup pumpkin puree

3 tbsp brown sugar

1 tsp vanilla extract

1 egg
DIRECTIONS
Preheat oven to 300 degrees Fahrenheit. Line a standard muffin tin with 10 cupcake liners.

Prepare the crust – melt butter in a small bowl, and add graham cracker crumbs, brown sugar, cinnamon, and ginger. Stir to combine. Note: If using actual graham crackers, crumble them in a food processor or with a rolling pin in a ziploc bag (both methods work great).

Scoop a heaping spoonful of the crust mixture into each cup. Press down well, using your fingers or a utensil.

Prepare the cheesecake – in a large bowl, mix flour, cinnamon, nutmeg, cloves, and ginger.

Add cream cheese, Greek yogurt, pumpkin, brown sugar, and vanilla extract. Beat well to combine.

Add egg and beat until smooth throughout.

Evenly divide mixture between cups, then bake for 25 minutes.

Remove from oven, let cool, then transfer to the refrigerator. Allow to chill for at least 2 hours. Top with maple syrup and walnuts, if desired. Enjoy!
---
---