Pumpkin Spice and Chocolate Granola Bark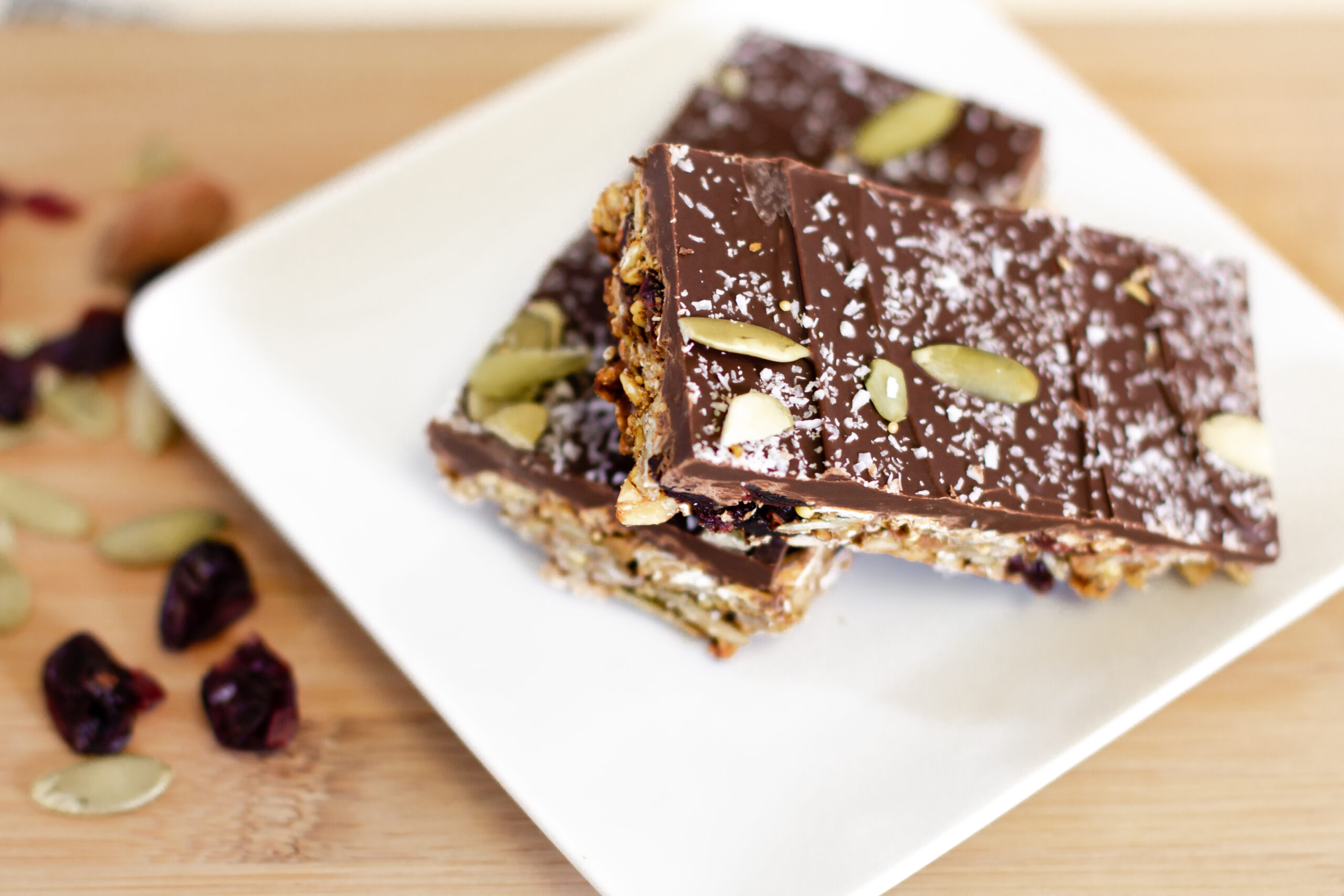 I came across pumpkin spice granola bark while strolling through Trader Joe's the other day, and my first thought was, "YUM!" So, I naturally bought some, tried it, and of course enjoyed it. Then, I realized I could totally make some myself. I put my own spin on the treat by adding dried cranberries and shredded coconut, and I created this recipe. After comparing this version with the bag from Trader Joe's, I have to say this homemade one is much better.  It's slightly chewier and has the perfect amount of pumpkin spice!
Rolled oats, fruit, nuts, seeds, pumpkin, vanilla, and spices intermingle in this granola bark. With honey and maple syrup for sweetness, and an egg white to hold it together, this fall treat takes less than five minutes to prepare. Simply mix, press into a pan, then bake.  After letting it cool a bit, pour melted chocolate over the granola and allow it to harden. This is the most torturous part because you can't eat it just yet. Using high quality dark chocolate is crucial, as the richness deliciously complements the pumpkin spice. Top it off with extra pumpkin seeds and shredded coconut, then voila! Happy snacking 🙂
---
PUMPKIN SPICE GRANOLA BARK
Prep Time: 5 minutes | Cook time: 30 minutes | Total time: 1 hour
Gluten-Free
---
INGREDIENTS
1 ½ cups rolled oats

¼ cup crushed almonds

¼ cup pumpkin seeds

2 tbsp seeds (flax, chia, hemp, amaranth, or a mix)

1 ½ tsp cinnamon

½ tsp nutmeg

½ tsp cloves

½ tsp ginger

3 tbsp maple syrup

1 tbsp pumpkin puree

1 tsp vanilla extract

1 tsp melted coconut oil

1 large egg white (omit if vegan)

¼ cup dried cranberries

1 ½ cups dark chocolate
DIRECTIONS
Preheat oven to 350 degrees Fahrenheit.

Combine rolled oats, almonds, pumpkin seeds, other seeds, cinnamon, nutmeg, cloves, and ginger in a large bowl. Stir to combine.

In a separate bowl, combine maple syrup, pumpkin, vanilla, coconut oil, and the egg white. Mix well.

Combine wet mixture with dry mixture, and add dried cranberries. Mix together until evenly combined.

Line a 8×8 inch cake pan with parchment paper, leaving any excess up the sides. Press granola into the pan using the back of a spatula.

Bake for 25-30 minutes, until hardened. Monitor the granola to make sure it does not burn.

Remove from oven, and let it cool for about 15 minutes.

Melt chocolate in the microwave. Use 50% power for one minute, stir, then microwave in 15 second increments until fully melted and smooth. Pour it over the granola and spread evenly. Sprinkle on extra pumpkin seeds and shredded coconut.

Place it in the fridge until the chocolate hardens, about 20-30 minutes. Cut into squares and enjoy!
---
---